If you think that the Sigma SD1 Merrill DSLR camera looks familiar, it is basically a slightly remodeled version of the Sigma SD1, but the price has been dramatically brought down in this new model by Sigma. Considered by many as an 'old-school' camera, the Sigma SD1 Merrill derives its strength from superb contrast and exposure options. Let's see how it does as a full-fledged DSLR camera in our full review.
Hardware
Inside the Sigma SD1 Merrill DSLR camera is a Foveon X3 Sensor. Unlike many other cameras in the market that use Bayer pattern of alternating an array of red, blue and green filters,  the Sigma SD1 Merrill relies on the principle of three different light colours that penetrate silicon to a different depth. This means that every point in the image has full colour information and there is no interpolation of the RGB colour signals. As a result, Sigma claims that the resolution of the SD1 Merrill is equivalen to 46 million pixels on a standard sensor even though there are only 15.4 million pixel sites.
Features
Features wise, the Sigma SD1 Merrill is pretty stripped down and it is designed for those who want an old school camera – as much as a digital SLR can be old school, of course.
Take a look at the mode dial and you will see that there is no intelligent auto or scene modes. Just Program, Aperture Priority, Shutter Priority and Manual Exposure modes. Also, you can forget about composing images on the LCD screen or shooting movies, because there is none of that.
There is an impressive 11 point AF (Auto Focus) system though and it gets subject sharp pretty quickly. With a maximum continuous shooting rate of just 5 frames per second that gives you a total of 7 images, despite whatever file format you use, this may not be considered to be the ideal camera for shooting fast paced and quick action scenes, such as sports photography.
While it may not be the best looking or most modern of cameras, the Sigma SD1 Merrill DSLR feels robust and incredibly comfortable in the hands of the user. It features a unique and innovative splash proof design that comprises of a strong and durable magnesium alloy body specifically built to withstand rough use.
There are also direct controls for most of the key features on the camera, as well as two different menu driven control interfaces. You can just press the FUNC Function button on the top-left hand corner of the camera above the LCD screen, or the QS button besides the LCD screen to get quick access to a range and a wide variety of adjustable shooting parameters.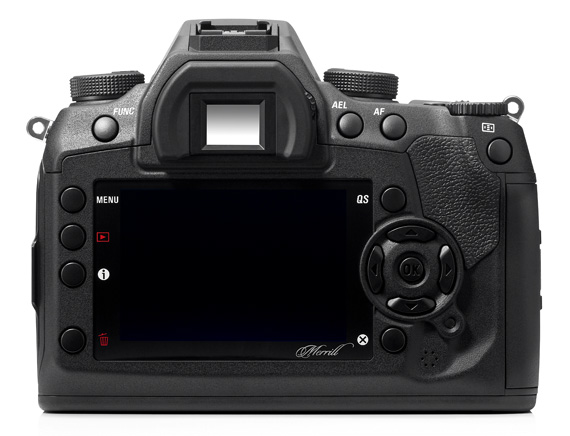 At low sensitivities and with careful rule processing, the Sigma SD1 Merrill DSLR is capable of producing very high quality images with lots of detail and plenty of rich and vibrant colours. However, when you step up to ISO range 1600, noise starts to become an issue. Some users may feel that JPEG images are slightly on the flat side straight from the camera, but these can be post-processed in order to get better picture quality, or you can play with the settings on the camera to get the desired results straight on.
The Sigma SD1 Merrill DSLR's somewhat paired down feature set allows you to concentrate the most important aspects of photography – composition and exposure.
Battery Life And Capacity
The Sigma SD1 uses a custom BP-21 rechargeable Lithium-Ion battery for power, and ships with a charger. Battery life apparently has not been published by Sigma, however battery life seems to be pretty good and you can rely on it to take a number of shots going into the hundreds on a single charge without having the need to recharge it again.
Price And Availability In Australia
Customers based in Australia can get the Sigma SD1 Merrill DSLR camera from TopBuy Australia, where it is presently available at a discounted retail price of AU $1,970.25, down from its original price of AU $2,199.00 at 10% discounted savings.