Pentax's latest DSLR camera – the Pentax K-30 sits just beneath the Pentax K-5 and is aimed at beginner to intermediate users of DSLR cameras. It adopts full weather sealing, which means that it can be used in practically any weather conditions. Let's see it get on in this full review.
Hardware
As soon as you pick up the Pentax K-30, you will notice that it feels a little bit more solid than the average entry level DSLR. For a start, it has one of the deepest and most ergonomically shaped grips that you will come across in the market. In addition to this, there are several textured areas that give it extra holding grip while in your hand.
The robust feel of the camera is backed up by special 81 weather proofing seals that keep weather, dust and sand at bay. Even when you take out this camera and the 81-sealed weather proofing lens out it in wet and rainy weather, you will have no problems using it despite the fact that it would be covered by water. This feature makes the Pentax K-30 one of the most durable DSLR camera in the market today.
Inside the protective shell is a 16 million pixel APS-C CMOS sensor which is able to move to compensate for camera shakes during shooting. As the shake reduction system is inside the camera, it can be used with any mountable lens.
Features
On the back of the camera is a 3-inch 920-thousand dot resolution LCD screen which provides a nice and clear view in all but the brightest light.
With the Pentax K-30, there is plenty of opportunity to take control over your images with the usual PASM exposure options as well as Pentax's SV or Sensitivity Priority mode and TAV mode. In TAV mode, you set the shutter speed and the aperture and the camera sets the appropriate sensitivity.
There is also a collection of colour modes. The results in Black and White mode are particularly outstanding, especially when the contrast is pushed to the maximum setting. In addition, there are digital filters such as Toy Camera, Retro and High Contrast that can be applied to JPEG images as they are shot. These produce some nice effects but it can take a couple of seconds for the images to process after the shooting.
There is also an optical viewfinder, and usually for an entry level camera, it provides the user with 100% coverage of the scene.
Although the Pentax K-30 gets the subject shot with reasonable speed, the Auto Focus (AF) system may not be the fastest available. Despite the 6 frames per second maximum shooting rate, this may not be the camera for shooting sports. Also, this kit lens still produces the familiar Pentax sound, which may feel OK to some users, but may be slightly irritating for others.
Image quality from the Pentax K-30 is pretty impressive. It puts an emphasis on detail capture rather than noise reduction. As with all Pentax cameras, the metering system has a tendency to underexpose when there are bright areas within the scene, but this at least helps to preserve the highlights.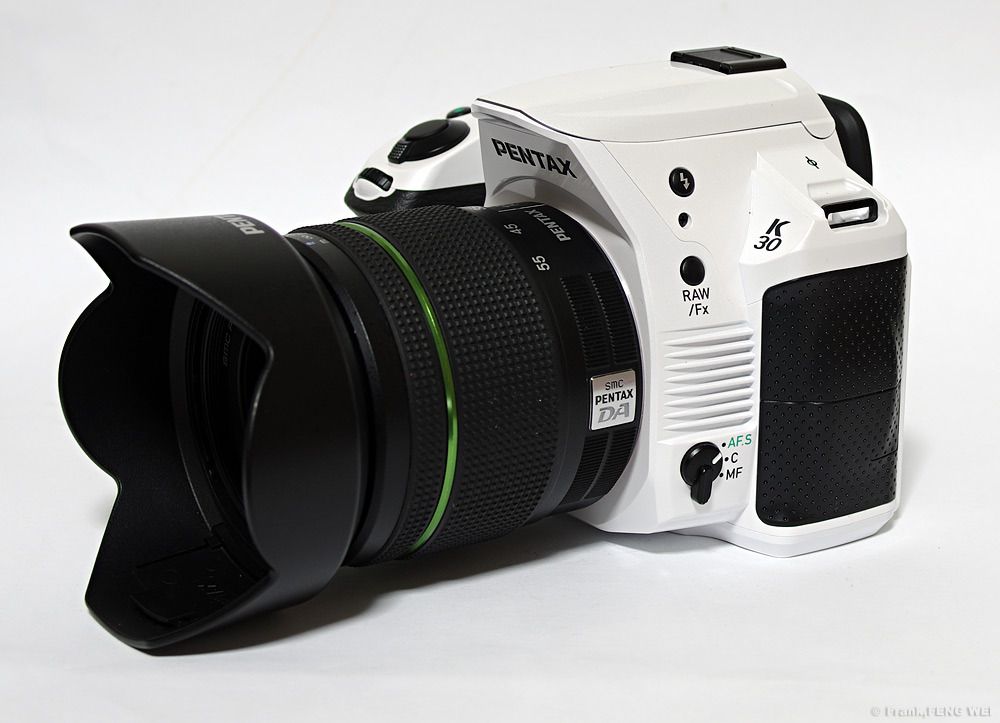 Another great feature of the Pentax K-30 DSLR is that after basic processing of shot images, RAW files are saved in DMG format, so they can be further processed using a range of software without the need for an update.
Battery Life And Capacity
Battery life on the Pentax K-30 is extraordinary to say the least. When the battery is fully charged, it is capable of easily taking more than 480 shots with flash. Obviously, this number increases in power saving conditions, such as without flash.
The battery compartment in the Pentax K-30 DSLR camera is also quite interesting because it is designed to support either the supplied Lithium Ion battery or four widely available AA batteries. So if your Lithium Ion battery runs out, you can always switch over to the standard AA batteries as you put the Pentax K-30 battery to charge.
Price And Availability In Australia
For customers based in Australia, the Pentax K-30 White DSLR Twin Lens Kit, which includes two 18-55mm and 55-300mm lenses in addition to the Pentax K-30 Digital SLR Camera, retails for a beginner-friendly price at AU $734.45, down from $1,019.00, with 28% discounted savings at TopBuy Australia.
If you are passionate about photography and are an absolute beginner, you would definitely want to go with the Pentax K-30 for a first DSLR. It makes a great option for anyone who is upgrading from a compact system camera, especially those photographers who want to shoot in demanding weather conditions. All things considered, you will be very impressed with the results, the number and usability of features, the ease of usage, and the overall quality of the camera.