A gift card is a form of credit that is designed to be purchased by one consumer and given to another. The gift card market has expanded substantially since the introduction of electronic gift cards. Many Australian retailers benefit from offering gift card products and with that new market participants have emerged.
With that comes in view, Amazon.com gift cards which are very popular world wide. Amazon.com offers cards of different values which can be used at its main store as well as affiliate stores. They come in several designs and graphics and have become even more interesting as Amazon has teamed up with video greetings service, JibJab. With the help of this entertaining tool you can add spice to the blandest gift of all.
They carry no fees and can be used towards millions of products available at Amazon.com. You can have it delivered in three different ways; either you could email, or use them through Facebook post or print it at home. The gift cards offered are convenient and never expire plus you could use it whenever you want. Also the gift cards are available at affordable prices with a value of $0.15 up to $2,000. This little card is perfect for last minute present. There are different amusing categories to choose from like,
For Pet Lovers
For Gamers
For Jeans Lovers
For Little Ones
For Trend Setters and many more!
You can even choose it with accordance to special occasions, like Valentine's Day, Christmas, Wedding, Birthday and many more!
Each gift card may be sent through mail with a personal message with new and creative designs which Amazon.com offers. You could add your photo or upload a video to add a personal touch to it.
You could buy just about anything at Amazon.com and this online facility has something for everyone. The gift cards may be purchased for immediate delivery or may be scheduled up to a year in advance so you don't miss out the important days.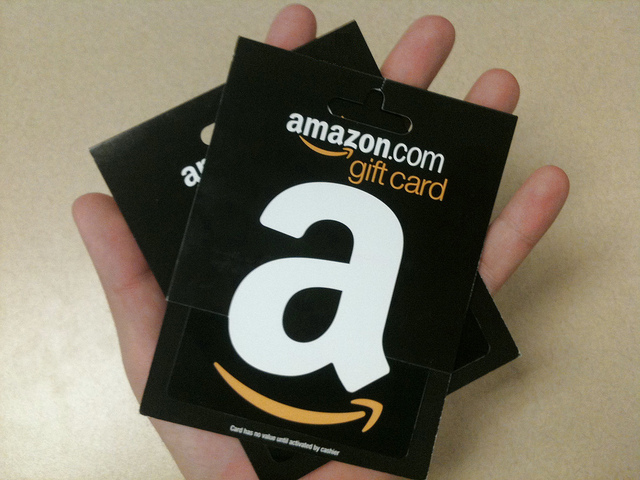 It may be a birthday, an employee reward, baby shower, your mom's birthday or even for some annoying friend you had some time back; Amazon.com has a lot to offer at reasonable prices, depending on the amount of gift voucher you have chosen. The process is fairly simple without requiring a lot of user's time making it quick and worthwhile. You can easily find your way through the site because of simpler navigation and self explanatory information. So don't waste time thinking what to buy for your loved ones, all the goodies are just a click away!